Regular price
$10.00 USD
Sale price
$7.00 USD
Unit price
per
Sale
Sold out
Share
View full details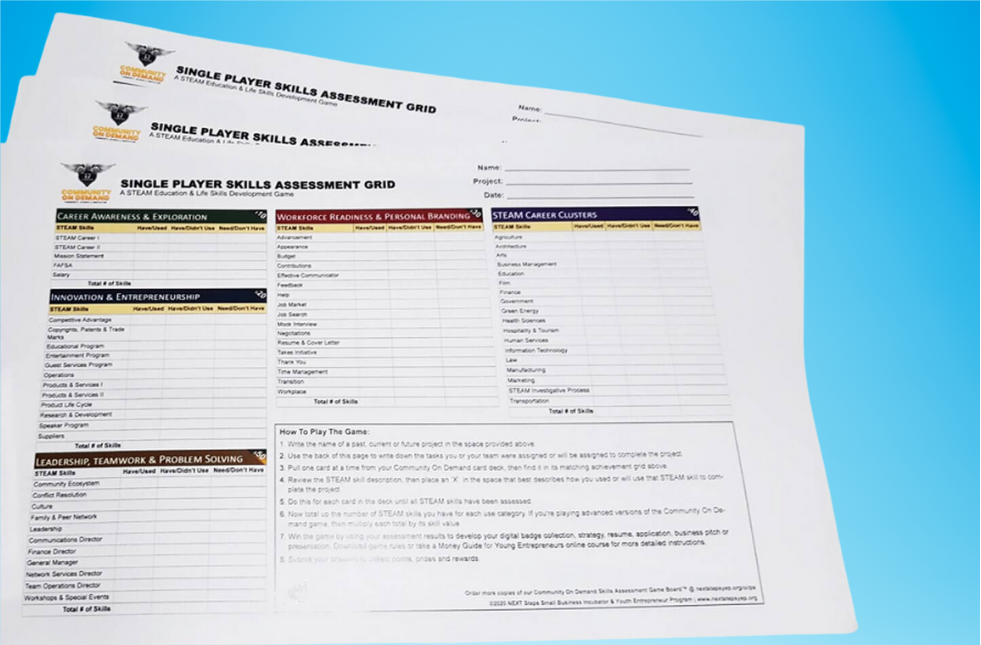 Logo - Community On Demand
Skills Self-Assessment Tool To Track & Measure Your Skill Growth
Engage in a valuable experience that provides insight into your preparedness for personal and professional challenges and growth opportunities. The Community On Demand™ skills self-assessment worksheet provides clear categories, self-rating scales, and skill values to helps you easily identify, track and measure your strengths and weaknesses and develop personalized learning plans for self-improvement and success throughout your life journey. Here's how this experience benefits you:
Assessment and Self-Reflection Process: Helps you assess your current skills, knowledge, and career aspirations so you can gain a clear understanding of where you stand in terms of workforce readiness.
Skill Gap Identification: Identifies skill gaps and areas you may need improvement in to excel in the workforce and to become more competitive in the job market.
Tailored Learning Plans: Based on the assessment results, "Community On Demand" skills self-assessments helps to create personalized learning plans and recommend specific online courses, activities, and resources to help you develop the skills needed for your desired career paths.
Progress Tracking: Tracks your progress and monitors your skill development over time -- allowing you to see how you are advancing toward your workforce readiness goals and make adjustments as necessary.
Feedback and Support: "Community On Demand" skills self-assessments provide immediate feedback and support throughout the learning process and gives you the language you need to articulate your goals, as questions, and seek assistance from your peers, mentors, and community of supporters.
Buying for a group?
Receive a discount for your bulk order. Consider purchasing the online course as well!
Discount will be applied once item is added to cart.
| Bulk Orders | Quantity | Discount |
| --- | --- | --- |
| # units | 30-50 | 5% |
| # units | 51-150 | 7% |
| # units | 151-500 | 10% |
| # units | 501-1000 | 12% |
| # units | 1000+ | 15% |
Learn All 7 Ways To Play The Game!
Buy Other Game Components
Join Our Youth Chamber of Commerce
Contact us with any questions. We're here to help!